American Made. Custom Crafted.
Since 1969, MET Motors has been a leading US manufacturer of custom-designed, high performance permanent magnet DC motors.

Whether you are looking for an ongoing production stream, a small run, or a quick prototype, MET provides the highest value motor for your application. If you are unsure of your exact needs we are capable of load-testing your present motor to confirm its performance. Simply send us an inquiry to discuss what we can do for your unique application.

We are proud of our rapid response to inquiries and requests for prototypes as well as our on-time delivery. Whether you need a 24 volt motor or one with another voltage, we can design one for you, capable of reaching up to 2 HP and 5,000 RPM. Our motors can be designed to run at a constant speed or a variable speed, depending on your requirements. For more information about applications, please read our blog.
Read more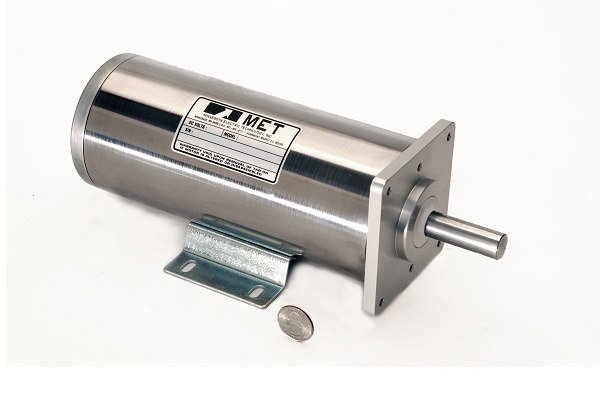 WHY IT PAYS TO BUY AMERICAN
US manufacturing processes meet some of the most rigorous quality standards in the world.


Quoting, prototyping and after-sales support is faster and easier, saving your company time and money.

​Keeping manufacturing jobs in the US boosts the economy.



Higher US standards mean that manufacturing processes are cleaner and better for the environment than in many other countries.



​Check out the National Association of Manufacturers for more reasons to buy American!

There are no easy, concise, answers and one technology is not necessarily better than the other. Once you have completed your homework, the decision for an AC or DC motor system is dependent on application and cost. In the end, markets exist for both AC and DC, and there are clearly advantages and disadvantages to both.
General comparisons
DC motors have the advantage of: higher starting torque, quick starting and stopping, reversing, variable speeds with voltage input and they are easier and cheaper to control than AC.
AC motor advantages include: lower power demand on start and minimal maintenance. While the market for AC motors is larger than DC, it can be challenging to find AC solutions with fractional horsepower ratings.
DC applications
Demand is growing for 12 and 24V motors to support solar, marine and portable (truck mounted) equipment which DC technology readily supports. DC technology is more cost effective than AC in general for lower horsepower applications. DC motors are the older of the two technologies, but R&D has not ended. Motor companies continue to invest in technology to reduce maintenance costs and extend motor life.